Why should you consider a shower door? Sure, you could use a shower curtain with a liner. You'd have to remove it to get the mold off, and they don't always keep the splashing and spraying inside your shower, do they? People had to contend with that until the early 1960s when the first shower doors were introduced. At that time, only the most affluent could enjoy the ease of care and operation, but today shower doors are quite common.
There seem to be endless providers of glass shower doors. At JP Fischer Tile, we love Century Bathworks and have been successfully recommending their shower doors for many years.
Founded in Paterson, New Jersey, in 1946, the Century Bathworks story is as much about quality as longevity. Over the years, they were known as "The Innovators," and it's not hard to see why. High-end, framed shower and bath enclosures are their specialties. Still, they also excel with frameless shower doors, semi-frameless or hinged shower enclosures, framed shower doors, and high-quality medicine cabinets.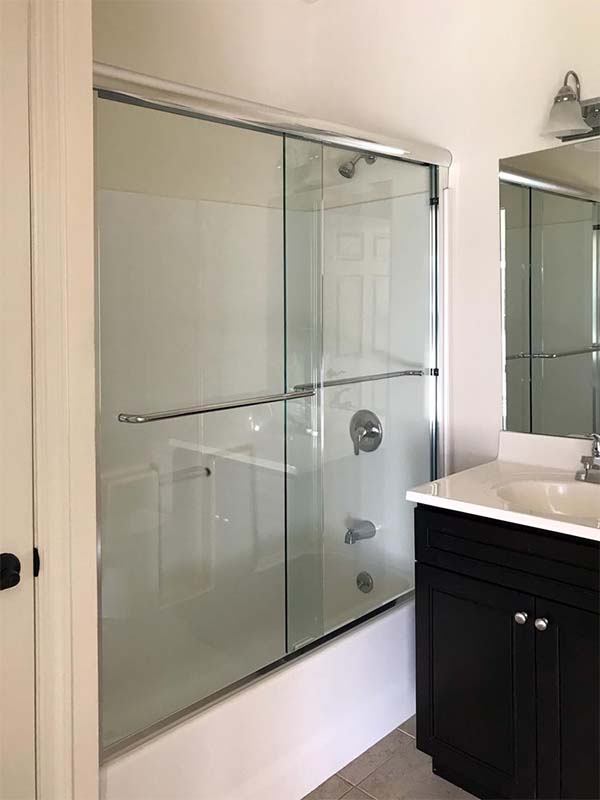 The Idea Phase
Okay, you've decided to remodel a bathroom and entered the project's idea phase. At JP Fischer Tile, we are all about providing inspiration and helping you find the shower door ideal for your look, need, and budget. But before we get too granular with topics such as glass, thickness, or hardware, let's discuss the types of shower doors popular today.
What is a Frameless Shower Door?
Although available since the early 70s, frameless shower doors have become extremely popular thanks to clean, minimalist design trends. A frameless shower door is constructed from sturdy, tempered glass that doesn't rely on metal support around the edges to support it. They look nearly seamless and devoid of visual obstructions. A frameless shower door can make a bathroom appear larger and more open and show off your beautiful shower tile selection.
There are two types of frameless shower doors.
A sliding frameless shower door usually has two panels, one of which slides open and shut with a smooth, flowing operation. The support and roller components are exposed and add an industrial feel, decoratively styled in various metal finishes. A frameless shower door is a good choice for small bathrooms as they don't need extra space to operate.
A hinged or pivot frameless shower door is another glass door option. These swing outwards to open. This is a popular choice for standalone or corner showers and comes with either side-mounted hinges or a pivot that's secured at the top and bottom of the panel to provide for door movement.
Typically, frameless shower doors are more costly to purchase and require more care with the installation.
Okay, what about a Framed Shower Door?
Easier to install and usually less expensive, a framed shower door is an excellent choice for anyone looking to install the shower door themselves. Although not seamless, a framed shower door is aesthetically pleasing and simple to operate and maintain. It has a metal frame surrounding each panel and opens with different metal finishes.
Then there is Semi-Frameless.
Essentially a framed shower door where there is no frame for the door panels, semi-frameless shower doors are an excellent choice for a bathtub enclosure. Also used as a sliding shower door, semi-frameless shower doors are usually less expensive than fully frameless ones while offering a clean, modern look.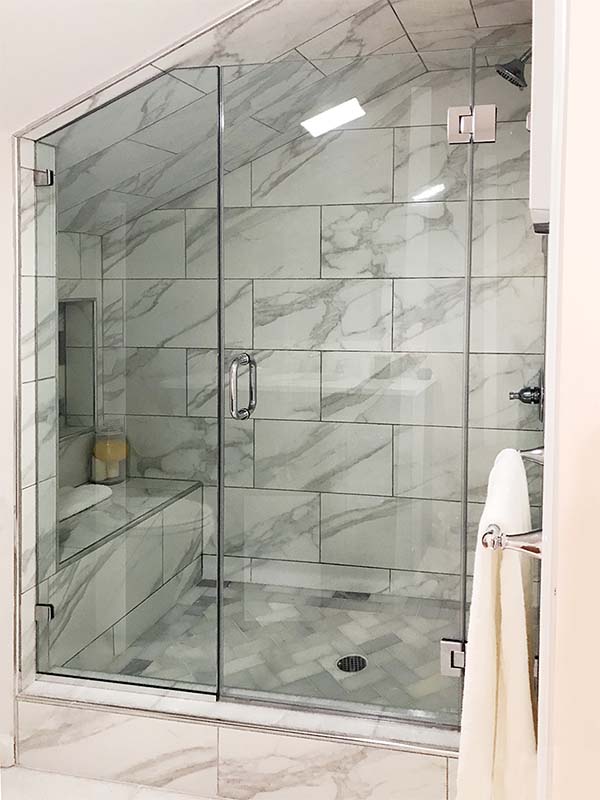 The Next Step
You or your contractor/installer can use one of the following forms as a measurement guide and return it to JP Fischer Tile. We can discuss your options with you and provide you with a price quote. We'll also show you the wide array of glass choices, hardware choices and decorative finishes to meet your design objective. Or meet with one of our design consultants.
Just click an image to download the guide (in PDF format).