Walk-in Shower Enclosures & Wet Rooms
Walk-in shower enclosures began as a necessity but has evolved into a style statement. It's origins centered around a need for safety and functionality, primarily for seniors and physically disadvantaged individuals. These designs allowed for wheelchairs to easily access a shower area, removing the floor barriers that shower doors require while adding safety and comfort features.
Often, walk-in shower enclosures are known as curbless, or level entry showers. Some offer pre-formed bases and resemble spa styling. And while they started in Europe, their demand (and appreciation) has been growing in the USA since the early 2000s.
Sure, reducing the requirement for the users to step up and/or over something will dramatically reduce the risk of tripping and slipping in what is one of the most hazardous rooms in the home. However, many people seeking a modern, stylish bathroom design are including walk-in shower enclosures in their design plan. They offer a minimalistic, modern look and are often easier to clean.
The stylish tile selections at John P. Fischer Tile are ideal for a walk-in shower enclosure. We can provide a luxurious look or the safety of a non-slip material. You can integrate some glass with ceramic or marble, incorporate a niche, add seats or grip bars. There are few limitations if the room offers sufficient space.
What is a wet room?
A wet room is a totally tiled and waterproofed bathroom. These rooms often contain a shower area at the same level as the rest of the floor. The water drains away through a drain within the shower area. The walls and floor are sealed by a waterproof membrane, eliminating the risk of runaway water causing any damage.
A truly open, fully tiled wet room removes the need for an enclosure for a walk in shower, although many people prefer to install a glass screen to prevent water splashing outside the shower area.
While you can incorporate a bathtub in a wet room, most feature just a shower. Recently, a customer told us he was including a Japanese shower/soaking tub within his wet room.
Wet rooms are ideal for those with mobility issues, as the floor of the showering area is completely level with the rest of the room, . This is especially helpful for people who need help to move effortlessly in and out of walk in showers. It requires less maintenance and cleaning than a usual bathroom thanks to the greater area reached by the shower water, and this makes a wet room a hygienic option.
Given the popularity of open floor plans for home interiors, the demand for wet rooms has grown. Homeowners are electing to change outdated bathrooms into ultra-sleek, contemporary wet rooms, complete with walk in showers. This provides the illusion of greater space and the feeling of pure luxury.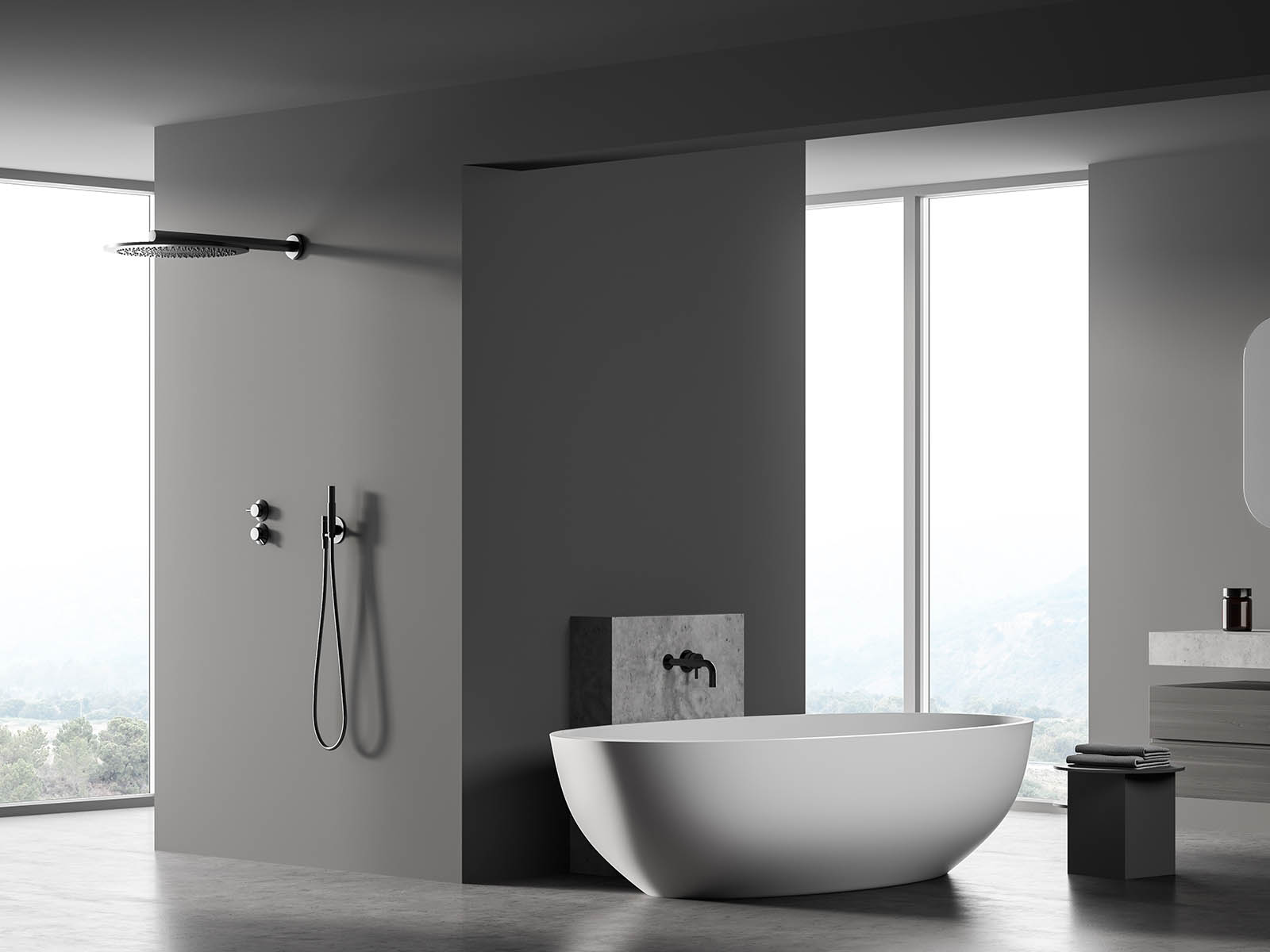 What Else Should You Consider?
It can feel colder in the shower, since there's no enclosure to hold in heat. So including radiant floor heating is very popular when designing a walk-in shower enclosed bathroom or a wet room. Some customers tell us they can be acoustically loud and bright because of the open design and hard materials.
You will also want to consider the use of pedestal sinks and raised cabinets.
Wet rooms are tiled from top to bottom, and often, the ceiling is tiled as well. Beneath that tile surface, your contractor will apply waterproof coats of primer and gel membranes. They can then lay your tile or slab above this tanked layer, making the floor, wall or ceiling impermeable to moisture.
You can heighten your wet room experience to that of a spa. Simply install extra water jets at different levels of the shower walls (doing so may require a partial glass panel to contain the water). Alternatively, a hand-held shower head lets you direct water at will, giving you more control over water flow, and can also assist with cleaning.
How to design a Walk-in Shower Enclosure or a Wet Room?
Stop in to John P. Fischer Tile and let one of our experienced design consultants show you some options. There are also many great examples to be found online. We can work with your design to help select the perfect color and pattern scheme using tile from around the world. Best of all, we have everything you'll need right here.
Here are some interesting wet room design ideas, courtesy of HGTV.