Vanities, the foundation of your bathroom
People have differing goals when selecting a bathroom vanity. Sometimes the priority is space-saving, and the smallest vanity would be appreciated. In a smaller bathroom, we offer single sink vanities which provide a nice balance between utility and storage capacity. They are usually 18 to 48″ wide, with freestanding, corner, wall-mount, or narrow depth designs available.
At other times, customers seek to maximize their storage capacity. Perhaps they have a larger space and can accommodate dual sinks. These vanities range between 48″ to 72″ in width.
And, how about selecting a vanity with a taller height, so you don't have to lean over so much? You gain comfort and additional storage space, and possibly more drawers.
Some vanities come with single storage space underneath the sink, accessible by either a single or double cabinet door. Others have shelves of varying sizes to hold toiletries, towels, and other bathroom supplies. Larger vanities typically have both cabinets and drawers, which is a great choice to increase storage capacity. Some may even offer a coordinating separate linen closet.
Some Tips on Selecting a Vanity
Before shopping for a new vanity, it is crucial to understand the useable space for it. If you are replacing an existing vanity, measuring the vanity that you are removing is a good place to start. However, measuring only the width of the cabinet (from left to right) but not the depth or height is a common mistake.
Measuring vanities in friends' bathrooms can be helpful. So can having a small tape measure handy at all times. Conversely, you should measure the largest possible width your bathroom can accommodate. If space isn't an issue, you'll appreciate the extra counter space.
When measuring, it's important to account for things like door swings that could intersect with the vanity's location. If adjacent, make certain you'll allow for space to sit on the commode (many local building codes have rules regarding this).
Also, you should measure the doorways in your house to ensure the vanity will fit and make it to the bathroom.
it is also good to know where the other existing features of the bathroom are located, such as the plumbing, windows, doors, electrical switches, and outlets. Rerouting the plumbing and electrical wires is often an expensive endeavor.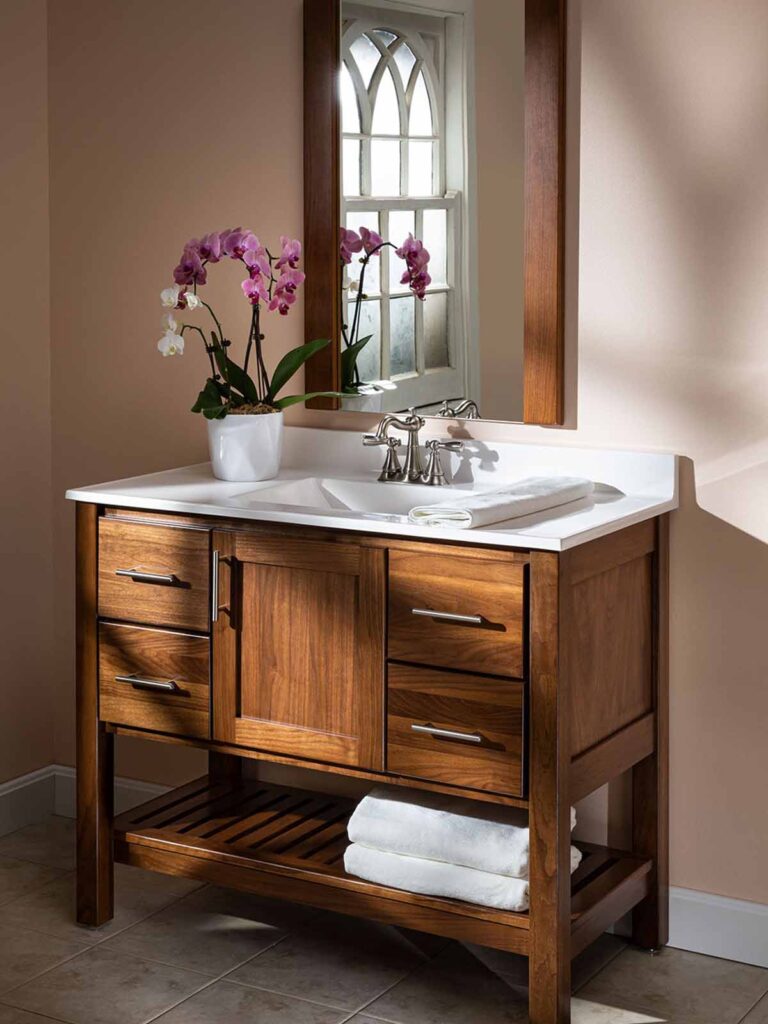 Features to Consider
Design
We offers a very wide selection of vanity designs. Our design team can help guide you through the styles ideal for your project, which include:
Traditional
Modern
Rustic
Shaker
Organic
Industrial
Mid-Century
Farmhouse
Cottage
Craftsmen
Soft-closing doors
There have been many improvements in vanity design over the years, but one of the most popular are soft-closing door. A soft closing hinge is a type of hinge that features a hydraulic mechanism built into it. When you close the cabinet door, the hydraulics take charge and ease the door closed in complete silence in a gliding motion. Many soft-closing hinges are also self-closing, but not all self-closing hinges are soft-closing.
There are also soft-closing drawers. When returning the drawer to the closed position, the soft-close motion activates when it reaches the last 25 degrees of closure and slows down to close with gentle, automatic ease.
Adjustable height levelers
Even in new construction, floors may not be perfectly level. If you measure your floor and it's not level, consider a vanity offering the benefits adjustable height levelers. Your installer will appreciate the flexibility, and you'll enjoy a nice level vanity.
Lastly, ask us about coordinating medicine cabinets for your new bathroom. You'll enjoy the extra storage they provide, plus the versatility of mirrors.