Want to improve the look and value of your home in a significant way? Next to the kitchen, the bathroom is the most valued room in the home. And the essential part of the bathroom is the vanity. The centerpiece draws your eyes, offers storage, and completes the entire room. This is why you should research as much as possible before selecting and installing one. Below, we will show you why the vanity is the heart of the bathroom.
Assess Your Current Bathroom Vanity
Except for new construction, your home most likely already has a vanity installed. There are many reasons you will want a new vanity, including:
Outdated look.
Wear and tear on counter and/or cabinetry.
Damage to the interior of vanity, especially water damage.
Insufficient storage.
Vanity does not meet the needs of new occupants in the home.
Non-working components such as drawers, pulls, doors, etc.
Does not match the rest of the home.
Before looking up your new vanity, we highly recommend knowing what kind you need. The most important issue is the size, with two important factors:
Fixed size: Does your bathroom only allow for a vanity up to a certain size? We recommend that you use this space to the max. OR
Open space: Does the bathroom wall allow for vanities of many sizes? In these cases, we recommend you get a new vanity at least as wide as the old one.
Whenever possible, we also like to recommend you get a new bathroom vanity slightly taller than your current one, as removing the old one can damage the drywall behind it.
"Bathroom vanity widths are generally in the 24, 30, 36, 48, 60, and 72 inch ranges. Single-sink vanities are usually between 30 and 48 inches. Double sink vanities are usually between 60 to 72 inches wide. "

Hayneedle
How to Select a Bathroom Vanity
Your old model will give you a good idea of what you need in a new one. For example, does your old vanity show water damage? Is it from the plumbing or the hot water used in the area? Many building materials are not made to stand up to those who like long, hot showers. So be sure to choose a material that is water and temperature resistant.
As we said before, measure the width of the cabinet (from left to right). But don't forget also to measure the depth and height. Purchasing a shorter vanity that is not as deep as your current one will likely prove disappointing.
We also recommend measuring and inspecting vanities whenever you are out and about. This includes friends' homes, businesses, restaurants, and even hardware stores. You may keep a tape measure with you to take measurements. Then take pictures of the ones you like, add their measurements, and keep tabs on them when deciding.
Another handy tip is to measure the doorways in your home to ensure your new vanity can fit into the bathroom.
Ensure your floor is level, or consider a vanity with adjustable height levelers for a smoother installation and level countertop.
Important Considerations
There are many options to consider when choosing a new vanity, such as:
Floors – It is a good idea to redo your bathroom's floors when installing a vanity for convenience. In fact, many professionals will offer a discount if you purchase both at once.
Countertops – Some vanities come with countertops already installed. Be sure to consider getting a vanity of this type where the material is durable and appealing, such as granite, marble, or even natural stone.
Sinks – As mentioned above, some vanities do not come with sinks. You may want to choose one of those "above the counter" sinks that look like a bowl or a more traditional under-counter sink.
Faucets and Drains – You may be able to use the faucets and drains that came with your old model. However, many homeowners like to have these replaced with their new vanity for visual appeal and better performance, as all faucets and drains have to be replaced eventually.
Mirrors – As with the above, your old vanity probably had a mirror, but many are considering getting a new one. In fact, those with double sinks like to have two separate mirrors instead of one long, flat mirror.
Shelving – New vanities can often come with shelving in the unit – either on the bottom or in the cabinetry for more storage. These are great for storing towels, dryers, curlers, etc.
Soft Close – These hydraulic mechanisms allow your vanity's drawers and cabinets to close with minimal sound and reduce wear and tear.
The Benefits of a New Bathroom Vanity
The main benefit of your new vanity is your bathroom's new and improved look. However, a close second is the value they will add to your home. Thirdly, you and your family will enjoy all the extra storage space.
"Add value to your home and grab buyers' attention when it's time to sell by giving an outdated vanity and countertops a makeover." – HGTV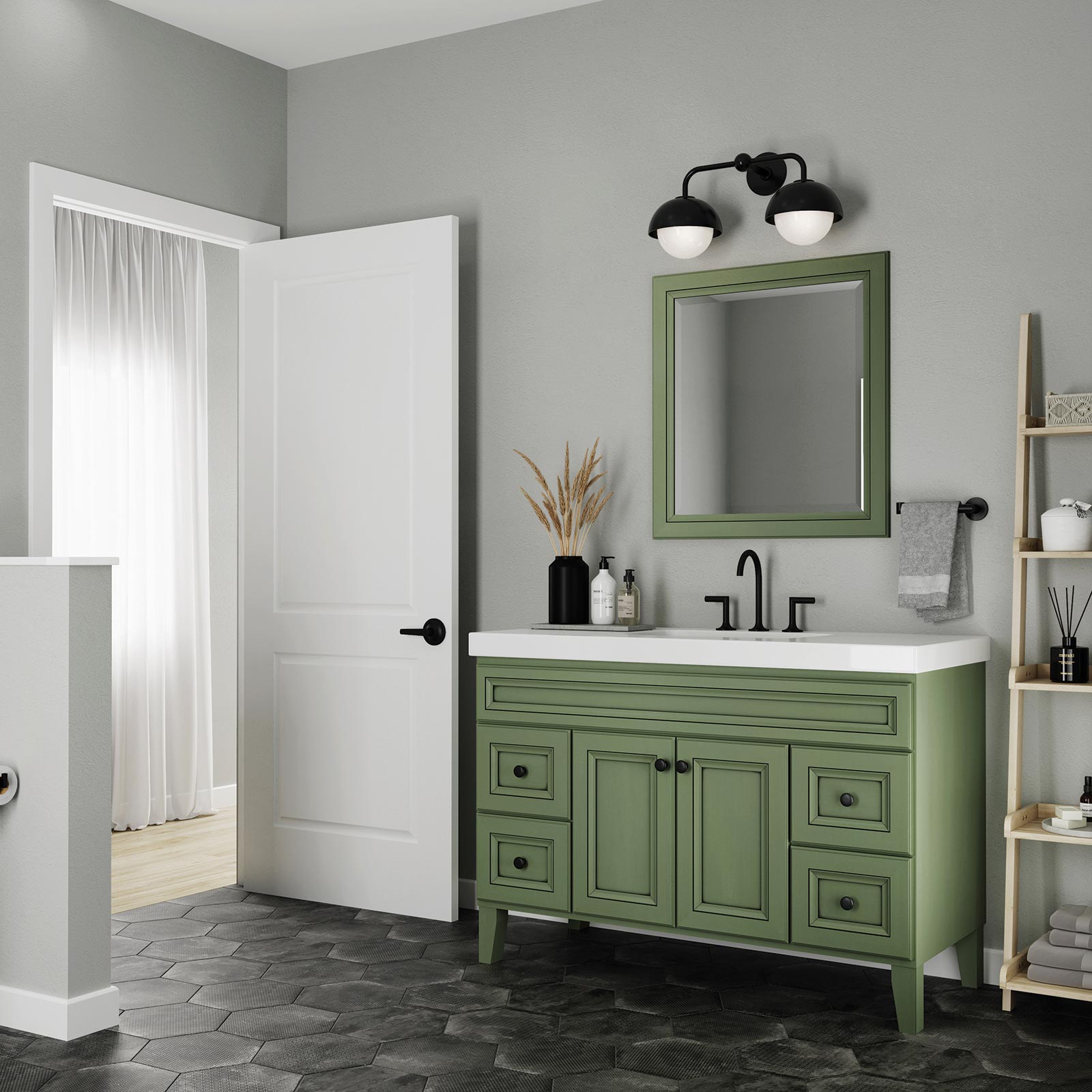 In Conclusion
Feel free to look in person and online for your new bathroom vanity. Don't be afraid to ask family, friends, and neighbors who have bought new vanities; they will have invaluable tips. Be sure to have your new vanity professionally installed, not just for convenience but to ensure the plumbing is done correctly and will not leak.
John P. Fischer is a family-owned and operated business that provides bathroom vanities of all kinds with one-on-one personalized services. We offer a range of bathroom vanities in many styles, materials, and sizes, plus we can custom order one for you. For example, one of our most recommended vanity brands, Bertch Cabinets, has been sustaining the art of traditional American cabinetmaking for over 40 years. Stop in and let us show them to you.